Digital Design Lab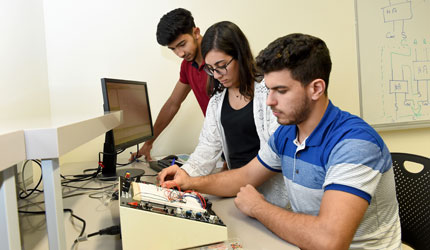 The Digital Design Laboratory is the home of the microprocessors and reconfigurable computing courses.
Here, students who take microprocessor programming courses come into contact with real life, step-by-step, processor programming. They learn to program, at the assembly level, and culminates in practical projects based on the used microcontrollers.
In addition, FPGA-based hardware boards are used for rapid prototyping. Students use hardware languages such as VHDL to design more complex digital circuits, such as pipelined simple processors, VGA controllers, and neural networks, and execute them on the FPGA platforms.
Hours of operation
8:00-16:30
7:30-14:30 [summer schedule]
Location
Engineering Building, Room 603
Supervisor
Engineering 602 A
Extension 2359

Other ECE facilities