Adel Guirgis
Dr. Adel Guirgis has a PhD in Petroleum Engineering and a Masters in Chemical and Petroleum Engineering with a Specialization in the Environment and a BSc. in Chemical Engineering with a minor in Petroleum from the University of Calgary. With over 25 years in the oil patch, he is an expert in conventional and thermal recovery production and operations, Enhanced and Improved Oil recovery, underbalanced drilling and coiled tubing operations, completions, and pump design; produced water treatment and process engineering. He is the author of several technical papers and the co-author of several Industry Standards and Codes for the oil industry in Canada including Flaring, Blow Out Prevention, critical sour well drilling and completions, thermal operations and digital oilfields.
Dr. Guirgis worked for several operating and service companies including: Kuwait Oil Company, Halliburton, Schlumberger, Sunshine Oilsands, Canadian Natural Resources (CNRL), Suncor Energy, Petro-Canada, Geoservices, Husky Energy, Tri-Ocean, Ensign Drilling and the Alberta Energy Board. He is a licensed professional engineer in Alberta, a registered Project Management Professional and a member of the Society of Petroleum Engineers (SPE).
Dr. Guirgis worked in north and south America, Europe, and the Middle East, and he has lectured at several universities and colleges and presented at peer-reviewed conferences.
Research interests
Digital Oilfields
Follow up processes to thermal recovery of heavy oil
Pipeline leak detection using drones
Selected publications
Guirgis, A., Gay-de-Montella, R., & Faiz, R. (2015). Treatment of produced water streams in SAGD processes using tubular ceramic membranes. Desalination, 358, 27-32. doi:10.1016/j.desal.2014.12.007
Ghosh, J. P., Guirgis, A., Achari, G., & Langford, C. H. (2012). Advanced oxidation for the degradation of cyclopentane carboxylic acid in water. , 2 1177-1182.
Guirgis, A., Ghosh, J. P., Achari, G., Langford, C. H., & Banerjee, D. (2012). An alternative process to treat boiler feed water for reuse. Water Environment Research, 84(9), 725-732. doi:10.2175/106143012X13373575830836
Academic Degrees
Ph.D., Petroleum Engineering, University of Calgary, Canada, 2012
M.E., Chemical and Petroleum Engineering, University of Calgary, Canada, 2002
B.Sc. , Chemical and Petroleum Engineering, University of Calgary, Canada, 1993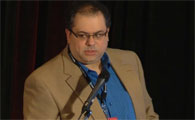 Adel Guirgis
Visiting Assistant Professor