The School of Engineering at LAU strives to educate talented engineers who are equipped for success in their professional and civic lives. Browse our offerings by department using the captions above, or read more about our mission, vision and values.
Prospective Students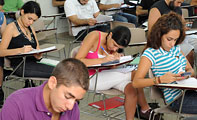 News & Announcements
Is Lebanon's electricity sector heading toward institutionalized privatization?
SOE
Celebrating innovative engineering project and fundraising climb
SOE
SOE Research Seminar Series - December 10, 2014
SOE

Upcoming events
No upcoming events at the moment.