M.S. in Civil & Environmental Engineering
This comprehensive master's degree program, offered by the Civil Engineering Department at LAU, imparts a sound professional and academic training in civil engineering. Students opt for one of five emphases:
Construction Engineering and Management
Environmental and Water Resources Engineering
Geotechnical Engineering
Structural Engineering
Transportation Engineering
Wider career prospects
A research-oriented master's degree program opens up the possibilities of a doctoral degree and an academic career. It also equips graduates with a deep understanding of the role of research in their industry. Through acquired research skills and a higher level of critical thinking, MS graduates are able to make more substantial contributions to the future of the profession.
Breadth and depth of knowledge
Through this program, students gain access to a variety of topics in their preferred area of study. They also get in-depth experience in one or more fields of civil engineering and are exposed to cross-disciplinary issues and topics related to the engineering and management of systems.
The research edge
Research is a major component of the curriculum. In addition to conducting research along with their studies, each student completes the program with a thesis based on a topic selected from their preferred emphasis area.
A dynamic faculty
Our civil engineering faculty brings excellent qualifications from renowned programs in the U.S. and Europe. Continuously engaged in cutting-edge research, our faculty has published over 250 refereed journal and conference articles, and received research grants from local and international funding agencies.
Best-in-class labs
Students have at their disposal some of the best-equipped labs in the country. Designed to support research as well as learning, the labs allow for measurement, testing, and experimentation under internationally accepted standards and procedures.
Full scholarship opportunities
Now open for fall 2022: Graduate Program Scholarship
Registration for the Fall 2022 Graduate Program Scholarships is open. Apply before June 15. Application deadline, June 15, 2022.
Graduate Scholarships will be posted on this page based on availability.
Assistanships opportunities
To find out about the Graduate Assistantships application deadline, check with the Department's main office.
Read on for further details about the program.
The mission of the graduate program in Civil and Environmental Engineering at LAU is to provide students with a well-rounded set of career skills that empowers them to address a wide range of problems through exposure to an advanced body of knowledge and scholarly endeavors.
Program Educational Objectives
The purpose of the Graduate Program in Civil and Environmental Engineering is to:
Train students to develop the methodology and necessary skills to explore emerging issues in engineering and science.
Provide students with an advanced background and a focused body of knowledge required for the present day professional practice in their chosen field of study, and to prepare them to adapt to a changing profession.
Train the students in an active research environment, to equip them with the latest tools of research, and to prepare them for further study toward a Doctoral Degree.
Student Outcomes
Graduates of the M.S. - CEE programs will be able to:
Reinforce skills developed in the undergraduate program.
Use advanced analytical, computational, and/or experimental aspects of civil engineering.
Make critical judgments based on a sound knowledge base.
Conduct research and appreciate its importance in the evolution of civil engineering.
Admission Requirements
Applicants for admissions to the program must hold a degree of Bachelor of Science in Engineering or Bachelor of Engineering, from a recognized university. A minimum cumulative Grade Point Average (GPA), on a 4.0 scale, of 2.75 and a minimum Major GPA of 2.75, or their equivalent, is required.
Bachelor of Science in Engineering holders, from a 120-credit program, must complete an additional 12 credits of engineering courses prior to their enrollment in the Masters program. No credit toward the graduate degree is given for these courses.
Non-LAU applicants must submit, as part of their application package, the quantitative reasoning and analytical writing scores for the GRE general exam. GRE subject exams are not required for all applicants. GRE test scores must be recent, less than 5 years old.
Two letters of recommendation are required, with at least one letter completed by a full-time faculty who is familiar with the applicant's academic performance in coursework and research.
Curriculum
Graduation requires the completion of 30 credits, divided into 24 credits of coursework and a 6-credit thesis. The coursework is distributed as follows:
a minimum of 15-credits of coursework in the emphasis area
a maximum of 6-credits of elective coursework from the list of graduate courses offered in Civil Engineering or in the School of Engineering
a required 3-credit course CIE 798 Research Methods for Engineers
Two core courses are required in every emphasis area. Only one elective course can be selected from outside the School of Engineering based on the specific need for the student to take a course in a relevant field to the thesis work.
All courses in the student study plan must be selected in consultation with the student's advisor and approved by the Chairperson of the Department. Availability of courses in a specific emphasis area is contingent on adequate enrollment in that specific course/area.
Students must complete a minimum of one academic year of full-time graduate level study, or its equivalent in part-time study.
Transfer of Credits
Students with a Bachelor of Engineering may transfer up to 18 credits from their undergraduate program, provided that the transferred credits correspond to graduate courses in the M.S. in Civil & Environmental Engineering and the student has attained at least a grade of "B" in each of the courses to be transferred. Credits transfer is governed by the Academic Rules and Procedures for graduate programs.
Apply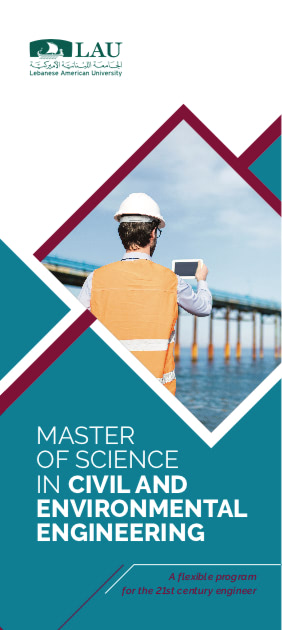 Download the brochure
Duration
Students must complete 30 credits. Students must complete all the requirements for the master's degree, including accepted transferred credits, within six years as of the end of the first semester.
Location
This program is offered on the Byblos campus.
Course schedule
Courses required for this program
Contact us
For further academic details, please contact Dr. John Khoury, Chairperson.
You may also contact the Civil Engineering Department.