High Performance Simulation Lab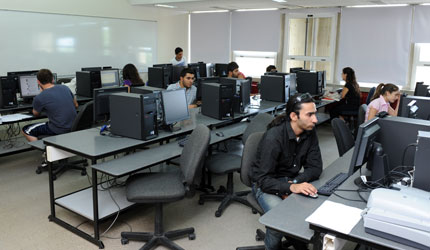 The High Performance Simulation Lab is a general-purpose computing facility equipped with 30 high performance workstations and a printer. Each workstation is capable of handling heavy simulations in Ansys, Matlab, Arena, etc. . The lab features state of the art engineering software as listed below.
Software
Ansys
Arena
AutoCAD
Comsol
Catia
Delmia
JMP
LabVIEW
Lingo
Matlab
Primavera
Solidworks
CMG Petroleum
KAPPA:
- Amethyste
- Citrine
- Emeraude
- Ecrin
Petroleum Experts:
- Prosper
- MBAL
- Resolve
Usage
General Computing Facility
Reserved for Final Year Projects
Reserved for Technical Electives
Engineering Graphics MEE 211
Computer Applications in IME MEE 212

Usage
Reserved for Final Year Projects
Refrigiration and Airconditioning MEE 515
Lab Location
ELRC 5102
Hours of Operation
8:00 a.m. to 10:00 p.m.
Supervisor
Salim Jamal-Eddine
Office: ELRC 4108
Extension 2899
salim.jamal-eddine@lau.edu.lb
Other IME facilities