Interactive Workshop: "Things Nobody Will Tell You about Social Media"
Posted March 14, 2014
The Department of Electrical and Computer Engineering
&
The IEEE-LAU Student Branch
cordially invite you to attend the seminar entitled:

"Things Nobody Will Tell You about Social Media"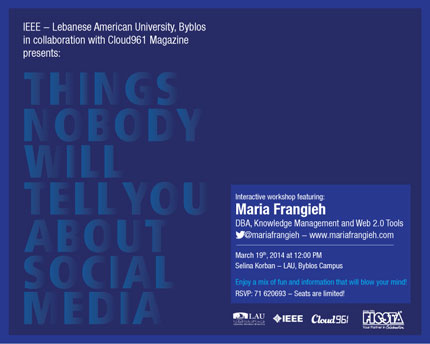 Date: Wednesday, March 19, 2014
Location: Selina Korban, Byblos campus
Time: 12:00 p.m.
Ms. Maria Frangieh is a university instructor, Doctorate in Business Administration (DBA) candidate, Web 2.0 expert and social media marketing consultant for major international and Lebanese brands. Lecturer in Haigazian University and University Saint Joseph, she has offered courses on social media marketing management, E-commerce, digital business, among others. She has also published a number of papers on these topics.
Ms. Maria Frangieh is the writer of the column 'Dollars + Sense' at the RAGMAG Magazine and a contributor in the Cloud961 magazine on Web 2.0 topics. She is currently a DBA candidate and is developing a unique strategic management model to restructure human resources and management processes in a company using the latest technologies available (Web 2.0). The objectives of the model are to increase the performance of the employees and make the management processes more efficient.
Interactive activities during the seminar:
The fastest way to get blocked on social media
The Twitter Feeds
Create Your Hashtags
Post on Twitter
Have you googled yourself
Fake Followers
The power of Social Media